NSN 5945-01-062-5154
Time Delay Relay
About this product
Metal case material, hermetic environmental protection, moderately rugged fragility factor, winding dc resistance rating: 180.0 ohms single winding and 220.0 ohms single winding.
Manufacturer part number 26YJGGK18SC for national stock number 5945010625154.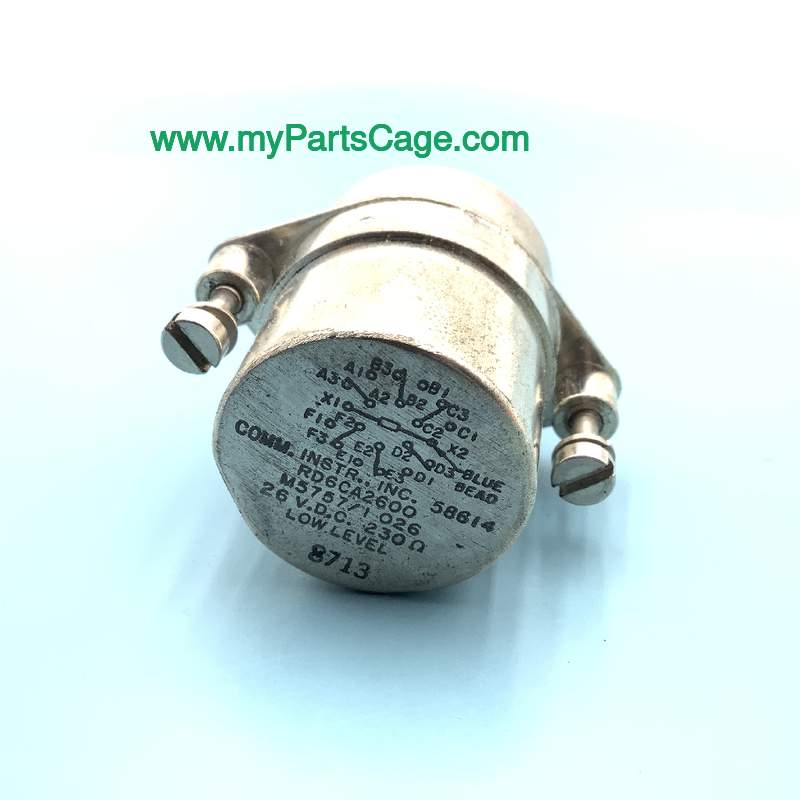 Datasheet
Product description




Electromagnetic Relay NSN 5945-01-062-5154.

MPN or Model




26YJGGK18SC

Schedule B


8536.41.0020 (Relays, electromechanical, with contacts rated less than 10 a, for a voltage not exceeding 60 v)

NMF (National Motor Freight)


061300 - Circuit Breaker/switch NOI

Unit Weight (Est.)


0.2 lb

Thread Class


2a single mounting facility

Thread Direction


Right-hand single mounting facility

Overall Length


1.690 inches

Center To Center Distance Between Mounting Facilities Parallel To Length


1.406 inches single mounting facility

Overall Height


1.700 inches

Overall Width


1.140 inches

Case Material


Metal

Environmental Protection


Hermetic

Fragility Factor


Moderately rugged

Winding Quantity


1

Coil Quantity


1

Winding Dc Resistance Rating


180.0 ohms single winding and 220.0 ohms single winding

Duty Type


Continuous

Arc Quenching Method


Air

Mounting Facility Type And Quantity


2 threaded stud single mounting facility

Storage Type


General purpose warehouse

Features Provided


Polarized

Cubic Measure


3.275 cubic inches

Thready Qty Per Inch (tpi)


32 single mounting facility

Thread Size


0.138 inches single mounting facility

Mounting Facility Pattern


In-line single mounting facility

Nonpile-up Main Contact Arrangement


6 pole, double throw, one position momentary

Time Delay


0.015 seconds fixed operate and release time

Operating Voltage Rating And Type At Specificationified Temp


26.5 volts dc 25 degrees celsius single winding

Main Contact Load Current Rating At Maximum Rated Voltage


2.0 amperes dc resistive load

Main Contact Maximum Voltage Rating In Volts


28.0 dc

Test Data Document


81349-mil-r-5757 specification (includes engineering type bulletins, brochures, etc., that reflect specification type data in specification format; excludes commercial catalogs, industry directories, and similar trade publications, reflecting general type data on certain environmental and performance requirements and test conditions that are shown as "typical", "average", "", etc.).

Thread Series Designator


Unc single mounting facility

Terminal Type And Quantity


20 pin all functions

Specification Data


81349-mil-r-5757/1 government specification
More from these suppliers
Electromagnetic Relay
A relay which is actuated by the effect of a magnetic field developed by the current in its energizing coil(s). Includes solenoid and armature types. Excludes contactor, magnetic; relay, meter movement; relay, motor driven; relay, reed; relay, resonant reed; relay, rotary; and switch, stepping.
Pricing and Availability
Get a quote for 5945-01-062-5154 electromagnetic relay
Manufacturer Part Numbers and Alternates
MPN

manufacturer part number

Registrant or Supplier
26YJGGK18SC
Dri Relays Inc.
M5757/1-026
Military Specifications
MIL-R-5757/1
Military Specifications
008007-1
Ge Aviation Systems Llc
008007-1
Ge Aviation Systems Llc
26WDK18AB
Dri Relays Inc.
300R065
Airpax Corp Llc
2262764
Navair And Navsea Managed
Stock Check
Availability for this item was last checked on 05/26/23. The quantities and conditions available at the time were: